The perfect treat for your perfect day!
Three amazing options for your wedding, shower, or engagement party! Whether your event is small and intimate or large in scale we have the perfect options to bring the best ice cream in Oklahoma City to you!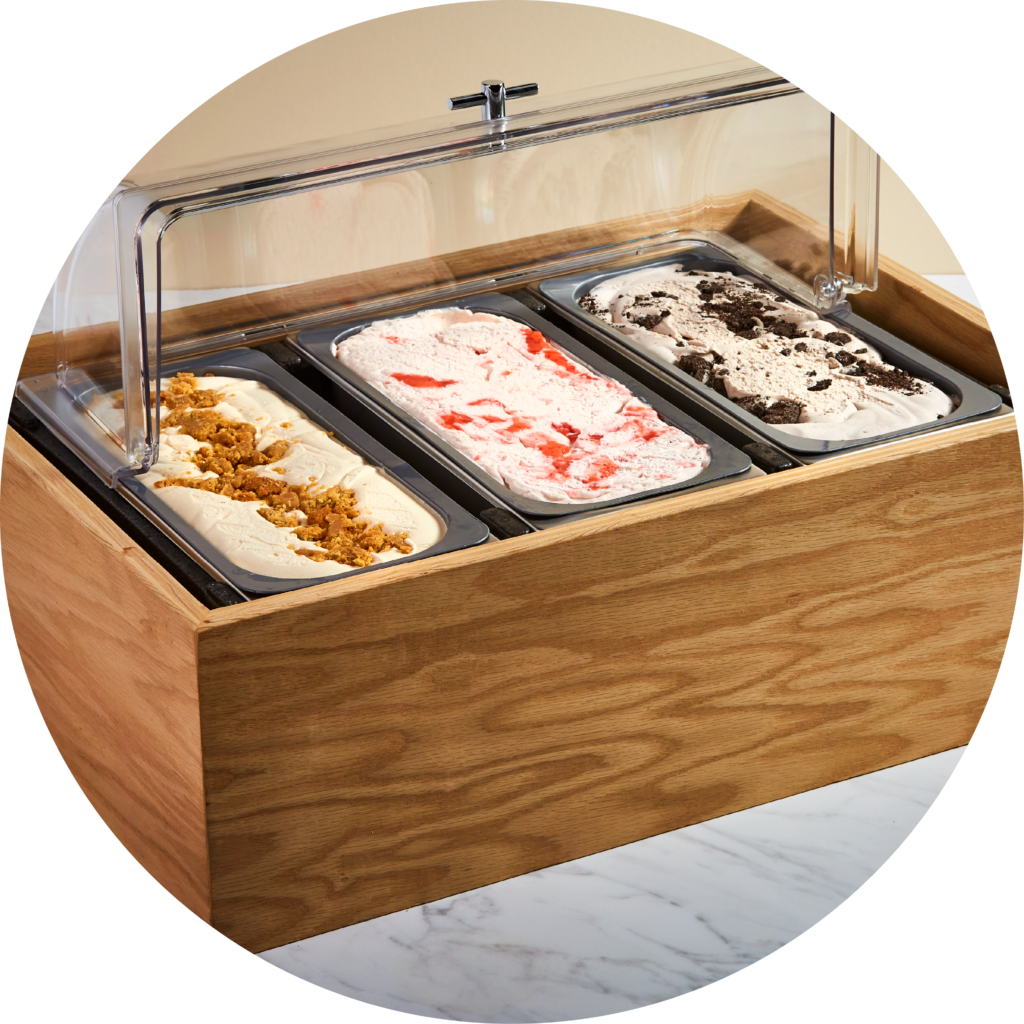 ICE CREAM STATION
50+ people
Our tabletop ice cream station is the perfect way to serve ice cream to a crowd. Add baked goods, toppings, and sauces to make it a sundae bar! This station can be a self-service station that is delivered and picked up from the event location or a full-service station with a scooper. Choice of 3-6 flavors.
Self-service: $5 per scoop + $25 hr. rental
Full-service: $5 per scoop + $75 hr. rental
$250 minimum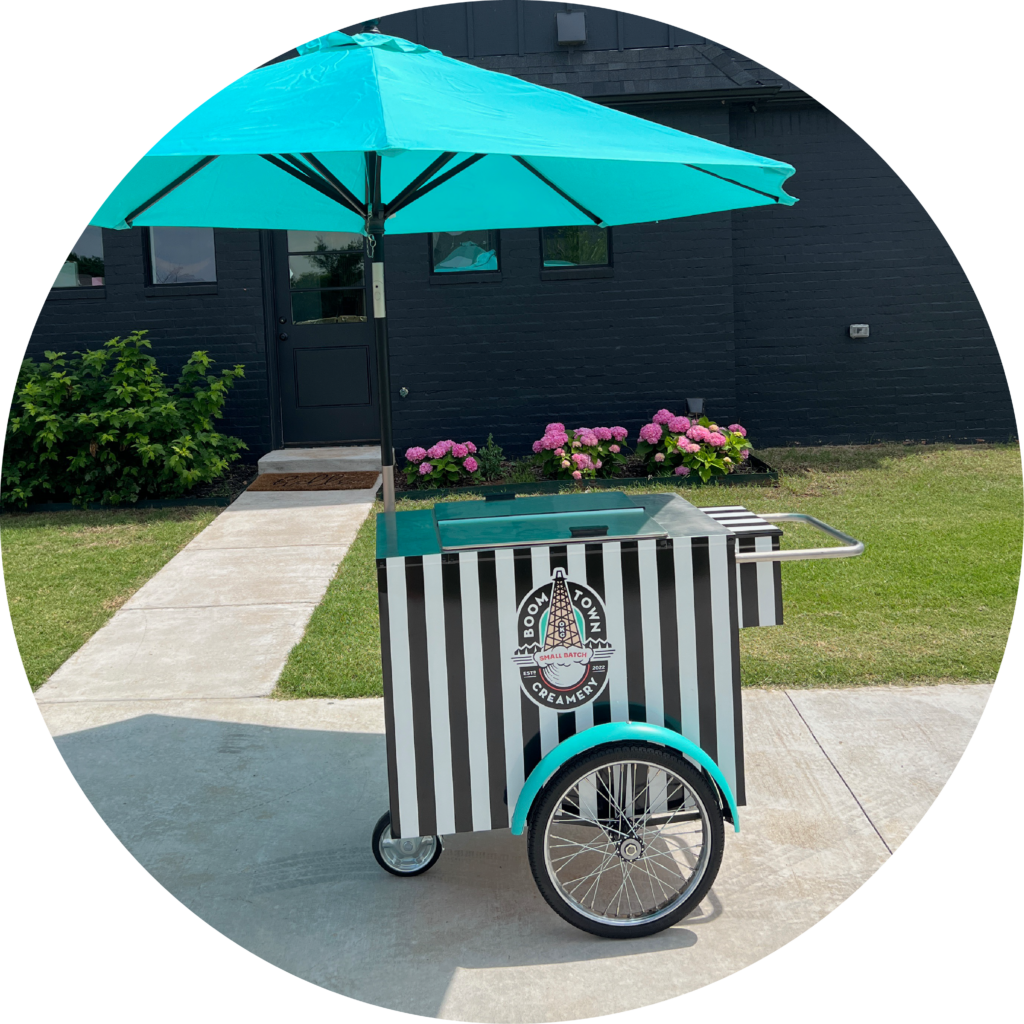 ICE CREAM CART
50-250 people
The most adorable addition to your event! Ice cream is pre-scooped and packaged in cups with lids, includes spoons & napkins. Toppings, sauces, cookies & brownies are optional add-ons. The ice cream cart can be self-service or a full-service station with a staff member. Choice of 4 flavors.
Self-service: $5 per scoop + $75 hr. rental
Full-service: $5 per scoop + $150 hr. rental
$500 minimum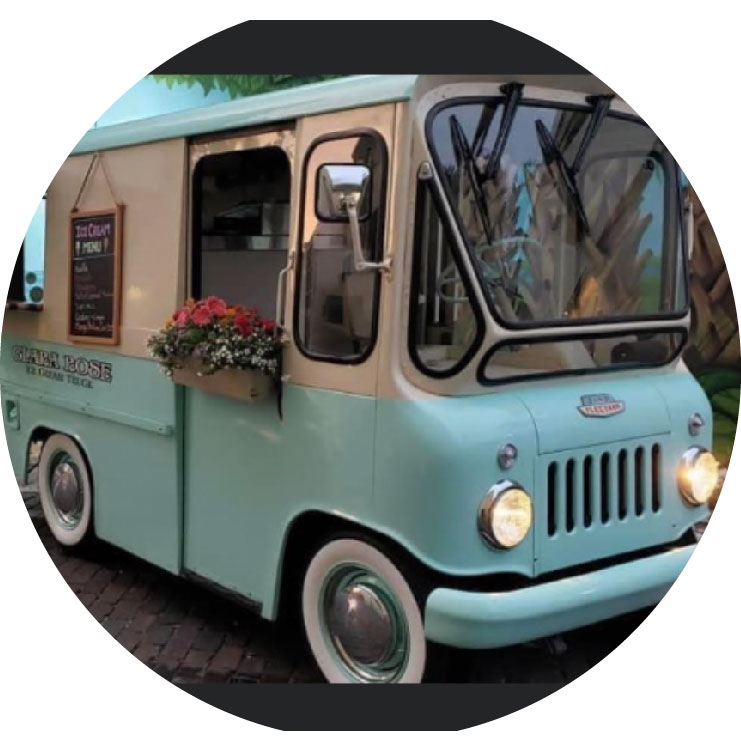 VINTAGE ICE CREAM TRUCK
150+ people
Our vintage 1961 Jeep Fleet van brings the charm and treats! Our truck is a full-service food truck with hand scooped ice cream scooped to order. Toppings, sauces, cookies & brownies are optional add-ons. Choice of 6 flavors. We will come to your event and serve your guests out of the most unique food truck in Oklahoma!
Available for bookings June 1, 2023
$5 per scoop + $300 hr. rental
$1000 minimum
Frequently Asked Questions about Event Catering:
Q: How do I book Boom Town Creamery to serve ice cream at my wedding?
A: First choose which ice cream serving option is right for you from the options above. Then head over to our booking portal HERE and select your option and your date. All you need to do to reserve your date is a $100 non-refundable deposit.
Q: What if my date changes?
A: Your deposit is transferrable if you change your event date. However it is dependent on if we have the new date available. We can always switch serving options for example if you booked our ice cream cart and it is no available on your new date we can switch to the ice cream station.
Q: How far do you travel?
A: We can deliver to the entire OKC Metro area and up to 30 miles from our store at 605 NW 23rd St. OKC. This radius includes Norman, Noble, El Reno & Guthrie.
Q: How do I know how many servings to serve at my event?
A: We recommend ordering 30% less scoops than the amount of people you expect. The sad reality is that not everyone will eat ice cream (shocking, we know!). You will be pre-paying for the ice cream for your event so in an effort not to leave a lot of waste and not to over-charge you we recommend 30% less, this means if you were having a 500 person event you would want to order 350 scoops.
Q: What happens with leftover ice cream after my event?
A: Good news: It's yours! We hope you don't have a lot of uneaten ice cream but in the case that you do it's yours to keep! Because you pre-pay for all the ice cream anything that isn't eaten is yours to take home. We don't think you'll mind that extra dessert for a little while.
Q: How long can you stay at my event?
A: We can party with you as long as you want! There is an hourly rental fee on all of our events so you'll want to keep that in mind. Depending on the size of your event and which of our event options you choose we recommend between 1-2 hours. This is a question that's best answered on a case by case basis with our event manager.
Q: How do I select the flavors for my event?
A: This might be the most fun part! Once you have booked your event and paid the deposit you are welcome to come down to the shop and try every flavor in our case, yep, that's right, you can taste all 24! We recommend making an appointment with our event manager at a time when the shop is less busy so we can answer all your questions and finalize your flavors. Because our flavors change we recommend making this appointment around 6 weeks out from your event.